Call Us On
028 7035 0000EXT 5330
Pricing
Valid ID required for Students. Family Pass includes 2 adults and 2 kids or 1 adult and 3 kids. Matinees are before 5.30pm and morning matinee is before Noon. **Applies to U, PG and 12a films – all must see the same film
Valid ID required for Students. Family Pass includes 2 adults and 2 kids or 1 adult and 3 kids. Matinees are before 5.30pm and morning matinee is before Noon. **Applies to U, PG and 12a films – all must see the same film
As well as showing all the latest movie releases we have regular screening events for the movie goer that wants to get that little bit extra out of their cinema experience...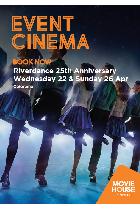 Event: Riverdance 25th Anniversary Show
Summary
Celebrating 25 years of the Grammy award-winning Irish dance extravaganza, the Riverdance 25th Anniversary Show, will be screened at Movie House Coleraine on Wednesday 22nd & Sunday 26th April. This is the first time the internationally acclaimed family favourite has been shown on the big screen.
Before you take your seat...
Pricing
Valid ID required for Students. Family Pass includes 2 adults and 2 kids or 1 adult and 3 kids. Matinees are before 5.30pm and morning matinee is before Noon. **Applies to U, PG and 12a films – all must see the same film